Amanda Shi sat the UCAT in July 2020 in Sydney, Australia. She scored 95 for UCAT (or 3060). She has been accepted into the Bachelor of Medical Studies and Doctor of Medicine at The University of New South Wales. In this article, she shares her experience of the lead up to the UCAT and sitting it!
How I scored 95th percentile for UCAT
Preparation
Way back in Year 11, I attended a Matrix UCAT Preparation Course that ran over two days on the weekend. It was a very intense, but time-efficient way of learning the ins-and-outs of the UCAT. While the course helped me gain a clear understanding of the UCAT subtests and set me up to practise the concepts I had just learned, I will admit that I left the Matrix campus that Sunday feeling more terrified than ever. As you may know, there is a lot of time pressure throughout the exam and sections like 'Decision Making' require you to rationalise some very absurd scenarios.
Looking back now, I'm glad that I did that UCAT course a year in advance because it gave me time to get used to the idea of the UCAT exam and gradually build up my reading and mental math skills, so I could push through the tough time constraints. I found the drills on UCAT Masterclass particularly useful for building these exam skills, and I wish I did them more regularly in the lead up to the exam.

Apart from doing some drills sporadically and undertaking the free annual UCAT M.E.D., my UCAT preparation only really began a month before my exam. During this period, I made a plan to do one or two practice exams every week from UCAT Masterclass and the official UCAT ANZ website.
At times, I would become lazy and very briefly review the mistakes I made in the practice exams, and with the benefit of hindsight, I would like to emphasise: do not do that!
I found myself seeing similar questions in later drills, yet unable to answer them correctly. So, via the hard way, I realised it's very important to carefully review the whole exam because you may have correctly guessed a couple of answers with the magic of multiple-choice, without actually understanding or remembering why your answer is correct.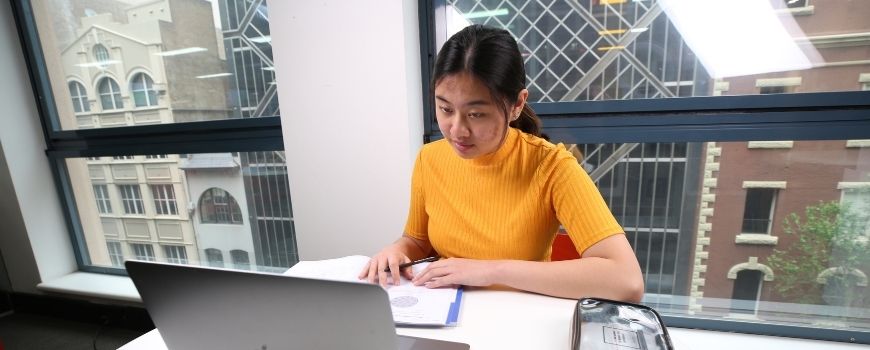 The actual day
I'm a massive worry-wart, so I arrived at the exam centre more than 2 hours before my exam. The staff checked my ID, took a photo of me trying to smile, and showed me to a waiting room.
I was probably waiting for around 15 minutes when a lady came in and asked if anyone would like to do their exam early on the spare computers. I took that opportunity to sit my exam early because I knew psyching myself out in the waiting room wasn't going to help anyone.
Before some other candidates and I were led into the exam room, we were all given a locker for our possessions, so that we could walk into the exam with nothing but our ID (and the clothes on our back, etc.). Once everyone was seated at a computer in the exam room, the staff did another ID check and then we were left to start the exam in our own time. The supervisor didn't stay in the room, but I assume we were being monitored on a screen somewhere.
The only things on the desk were the computer monitor, a whiteboard marker and three laminated sheets attached together with a key ring. An interesting thing I noted was that the computers had rather large screens, so don't be surprised if you have to lean back a bit to see the whole screen. I gave myself a minute or two to just breathe and calm my nerves down because at this point they were shooting through the roof!
Once I felt ready, I began my exam and I settled into focus. I answered every question, but I was quite rushed for time in 'Verbal Reasoning' and 'Quantitative Reasoning'.
The exam goes by a lot faster than you realise because you are caught up in the questions (and time flies when you are having fun!). That said, make sure you don't linger on any hard questions and keep your eye on the time. There's no penalty for incorrect answers, so it's best to just give every question an answer, even if you aren't 100% with it.
On that note, remember to flag questions that you aren't sure about (use the shortcut alt+F to save time) because when you reach the end, there's no quick way to flick through and find your question, unlike a paper exam.
At the same time though, if you have five seconds left and 6 questions incomplete, at that point you probably don't have time to come back to flagged questions, so don't waste time flagging them and just select an answer option – hopefully, though, it won't come down to this!

My biggest regret
I pushed myself a little too hard the day before.
The day before my UCAT exam, I completed three practice exams and multiple drills. It's fair to say that I was pretty tired on the day of my exam even with 7 hours of sleep. To add to that, the UCAT is a two-hour computer exam, which means it is a heavy strain on your eyes, so things will get blurry if you are not well-rested. One of my biggest regrets is not resting the day before, and pushing my body as though some miracle would come out of last-minute cramming.
Squinting to see the passage properly in the 'Verbal Reasoning' section is not a fun experience, and neither is rapidly blinking to get some moisture going in your eyes during the one-minute breaks.
My final game-day tips for scoring 95
Make sure you go to the bathroom before the exam, because you can't pause the exam and there is literally no time.
Stay hydrated, but stop drinking water around 2 hours before your exam.
If there is a technical problem or any other emergency for that matter, alert the supervisor immediately, because they can either resolve it for you, or be a witness if you need to apply for special consideration.
Utilise your one-minute breaks in between sections to clear your working out sheets and reset yourself for the next section.
Learn the keyboard shortcuts to save time! You'll need it.
Want to score high for UCAT like Amanda?
UCAT Masterclass helps you get UCAT ready in just 40 hours. Sign up for a free account to try it out and get started today!